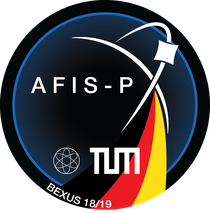 A prototype version of our AFIS detector has been selected to be part of the BEXUS 18/19 launch campaign. BEXUS stands for Balloon EXperiments for University Students and is a program that allows students from universities and higher education colleges across Europe to carry out scientific and technological experiments on stratospheric research balloons.
The REXUS/BEXUS programme is realised under a bilateral Agency Agreement between the German Aerospace Center (DLR) and the Swedish National Space Board (SNSB). The Swedish share of the payload has been made available to students from other European countries through a collaboration with the European Space Agency (ESA).
Our experiment will be launched on one of the balloons of the BEXUS 18/19 launch campaign from the Esrange Space Center in Kiruna in northern Sweden in September/October 2014. It will consist of a completely developed prototype of the future detector and an on-board data handling system, which will emulate the controlling interfaces in future (space) missions.